August seemed to have come and gone so quickly and now we're almost halfway
through September! Remember being a kid and the school year seemed to last forever? To get from the start of the school year to Halloween seemed like the longest wait in the world? So what the heck happened? Am I going to wake up one day, a few days from now, and discover that Christmas is almost here? Yes!
That means I've got a lot to do in a short amount of time. I am writing, not editing. Yet, I have plenty of things to edit. I have wonderful story lines running in my head and characters begging for keyboard time that won't make it there for a while. I'm working on a bunch of shorties. The only way to explain them is they are just short enough to read while waiting for the kids to get out of school or activities.
The Exquisite Quills decided to get together and do two anthologies this ye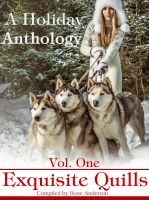 ar. One for Halloween/Fall and one for Christmas/winter. We have to write a story in 2,00o or less! These are really short-short stories! But they can be loads of fun to write and to read. I write both of mine this week so they are just there on my hard disk in need of a little tweaking  before they go to my editor.
We (the Exquisite Quills) did one last year for the winter holidays and it's free on Smashwords. I wrote The Kissing Ball for that anthology and I'm going to be nice and post that story here on my blog. Or click Smashwords or the book cover for the complete book.
Writing those made me think about what plans I had for the next few months. When I looked hard, I decided my plate was overly filled. I have a few personal things going on this fall and they are eating into my time. Plus I still need to redo my website and fix my book on this blog. See? I'm overloaded. So realistically I need to cut back. But part of me doesn't want to reel in all my great plans, so I tweaked them. My new plan is…
How does a bunch of these short-short stories all centered around the winter holidays sound? I think it sounds like fun! And they should be fun to write, while taking  a lot of self-imposed pressure off of me.  So that is my new plan for this fall. All little shorties that are fun easy reads. No half stories, no hooks just sweet snippets of romance to make you feel good. I'll bundle them all together for you at a super price.  🙂
Are you ready for some winter romance?